Hypertext Haiku was the result of combining computer technology and poetry. During my junior year of college, I took a bookbinding course. The concept of the course was that writers do not have full control of their art. They write something and then turn it over to an editor and printer. They lose control of the process, unlike their artist colleagues: the dancer, the painter, the photographer, the musician who have total control of their art from conception to delivery. Writers don't have this. During this class, we created poetry (I did five Haiku), chose paper, ink, and font to print it. We used a hand press to print up our work. We then made books by sewing and gluing. Finally we took our products to two bookstores for sale. I sold two of five books. My only other experience in publishing was as a high school student on the yearbook and school newspaper. I was not good enough to make the literary magazine. When I started teaching, student work was published in these traditional books and put on walls in classes and in halls. But it was not publishing. I was always looking for ways to publish the scholars' work. Then in 1992, the WWW came into existence and we had a platform for the scholars to publish.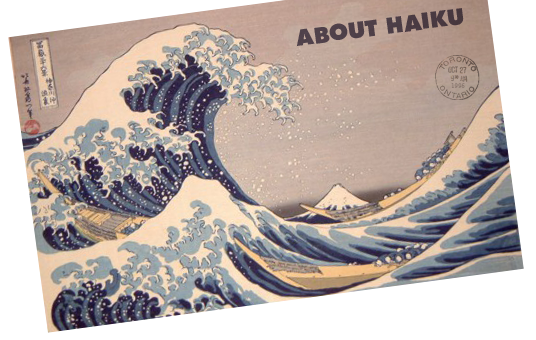 After setting up a linux server and giving all of my scholars accounts, we began publishing our essays and our creations. One of the early projects was Hypertext Haiku. The students would learn about the haiku, read haiku, and then produce five of their own haiku. I asked them to write urban haiku because we live in a city. I asked them to write all the haiku on one side of a piece of paper. The hypertext part had them find four words in each haiku and use each word as a link to another haiku. When the link was made, the word chosen would relate in some way to the haiku linked to. For example, if the word "snow" was used in one haiku to link to another, that haiku should be about snow.

This was a complicated lesson. It dealt with the intricacies and beauty of the haiku and added a complex technological twist. The technology demanded juggling the links and maintaining the integrity of the poetry. It was a classic conflict of form and content.


Hypertext Haiku is a lesson I have done with teachers in a fun whimsical way online. Other teachers have picked up on the lesson. The scholars love it. Hypertext Haiku is a good example of how the computer technology can enhance the arts in our classrooms.

Chaos reigns within.
Reflect, repent, and reboot.
Order shall return.