I am concluding the The John Lennon Letters edited by Hunter Davies from where I left off as John and Yoko take up residency in NYC.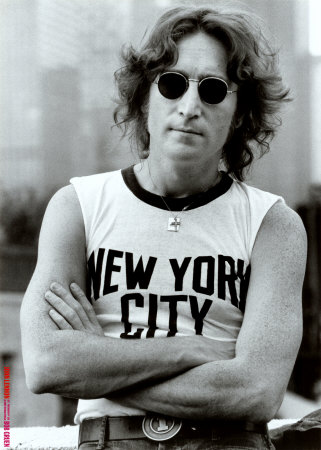 John and Yoko are settling right in. A month at the St Regis, a rental on Bank St, and finally to the Dakota. They are being political, in spite of deportation problems. They host the Mike Douglas show for a week and have very Leftist guests. His correspondence includes Huey Newton. They go to a day at the Watergate hearings. They promote their music and even books John read as a youth that became a popular show in England. NYC is definitely getting into his blood and he into NYC's fabric.
1973-4 are considered the "lost Weekend" when he and May Pang leave NYC for LA. This time is spent creating what will be two great albums and lots of letters and notes of apology for his bad behavior all over LA. He is also back in touch with Cynthia about getting Julian over. Cyn joins Julian in LA for a vacation. "Whatever gets you through the Night" a collaboration with Elton John reaches number one. There's more of his notes, lists, and whatever he puts to paper since collectors are collecting Lennon memorabilia. His legal woes haven't gone away, but he is concentrating on music and being lost.
Once he has settled into 1 West 72nd St, Apt 72 and his court case about extradition is looking like it will end in his favor, John is reconnecting to his UK family, which consists of half sisters, cousins, and aunties. His connection to Julian has waned because John has reunited with Yoko and this action angers Cynthia. Sharing of pictures and his joy with the birth of Sean rejuvenate John's need to reconnect with his family. During this time, John and Yoko have also tried to reconnect Yoko with her daughter, Kyoto, from former husband Tony Cox. Of course much of the family reunification involves money and other matters since John owns the houses his family live in.
A very haunting letter he wrote to Howard Cosell, declining an invitation to be on a Cosell show stopped me cold. It was while watching Monday Night Football one cold night in December 1980 that Howard broke from the game to announce that John had been shot.
Once John wins his court case and can travel, he becomes a more independent and footloose and care free person. His letters are jovial, more Lennonesque. He is traveling and sending postcards to everyone. He is being a father to Sean in NYC and trying to reconnect with Julian, with little luck.
Becoming a family man, a father, a sailor were the things that occupied John in the end. His relationship with Derek Taylor was new stuff for me. Perhaps the coolest part was his near death sailing trip of five days from Newport to Bermuda. It got him back to music. Much of what remains from John are to do lists, shopping lists, and reminders. Stuff from the bin. Always those eerily last day letters autographs and notes are haunting and just plain strange. But of course they would be.
This is not a literary masterpiece; it is simply a good retrospect of a man with lots of excellent surprises.