Death of a Chef
by
Alexander Campion
begs the question, why would someone kill a chef? Let's find out shall we. While in Paris I saw one of the coolest methods of moving someone in or out of an apartment in a walkup building. It was an escalator type of ladder. The furniture was strapped on and up or down it went with ease and wear and tear on the people doing the moving. But for one antique portemanteau filled with a dead chef, the movers were wondering why it weighted so much.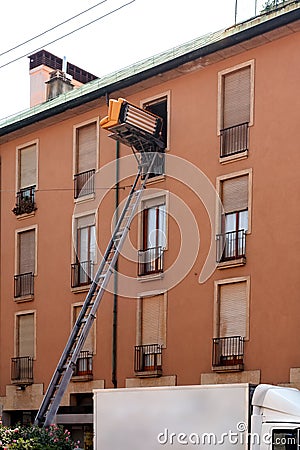 Campion is much like Martin Walker in that food; very good food is devoured during the investigation of a murder. Wine is also consumed. In this series, Capucine is the 'head of detectives' and her husband, Alexandre, is not only a good cook in his own right, but is also a renowned food critic in Paris. Recipes from three star restaurants appear on the author's website as they do on Walker's. Both authors go into great detail about cooking; how it is done so the reader could actually reproduce some of this food, which includes some irreproducible dishes as well as some very traditional and classic French cuisine.
In the case of the murdered chef, Capucine has her detectives scouring all over Paris as well as making sorties into the country. In addition to being a fine gourmet's delight it also serves as a good travelogue. Reading this novel makes me hungry and wanting to return to Paris. What we often see in these mysteries is a connection to the past and this one is a doozey and a young girl is in the middle of it.
The fun of this off beat mystery is that we go from kitchen to kitchen, be it a three star restaurant or in someone's house or apartment. During the preparing and cooking our detectives also do police business and then over a fine meal and a proper wine they discover something about the murder while we only get hungry. But I am learning something and for me it is more tarragon.
Alexandre and Capucine are a modern day Nick and Nora Charles of sorts as they banter about things always over a drink and food and at a nice restaurant. But the scene-stealer is always cousin Jacques. The comic element is always furthered by an exchange like this: "Isabelle, remember that phrase from Sherlock Holmes I always like to quote. Let the facts dictate your theory. Don't try to force them into your preconceived notion."
"Commissaire, this isn't some mystery novel. This is the real world, where there are no coincidences."
What we have here is a fine book on culinary delights liberally sprinkled with murders. Bon Appétit.